(Last Updated On: February 16, 2019)
light-based wireless technology (li-fi) will be the future of our world. In this post, I will tell you in detail about Light-Based Wireless Technology (Li-Fi)
light-based wireless technology (li-fi)
Li-Fi is a bidirectional, high-speed and fully networked wireless communication technology similar to Wi-Fi. The term was coined by Harald Haas[1] and is a form of visible light communication and a subset of optical wireless communications (OWC) and could be a complement to RF communication (Wi-Fi or cellular networks), or even a replacement in contexts of data broadcasting.
It is wire and UV visible-light communication or infrared and near-ultraviolet instead of radio-frequency spectrum, part of optical wireless communications technology, which carries much more information and has been proposed as a solution to the RF-bandwidth limitations.[2]
Expect to hear a whole lot more about Li-Fi – a wireless technology that transmits high-speed data using visible light communication (VLC) – in the coming months. With scientists achieving speeds of 224 gigabits per second in the lab using Li-Fi earlier this year, the potential for this technology to change everything about the way we use the Internet is huge.
And now, scientists have taken Li-Fi out of the lab for the first time, trialling it in offices and industrial environments in Tallinn, Estonia, reporting that they can achieve data transmission at 1 GB per second – that's 100 times faster than current average Wi-Fi speeds.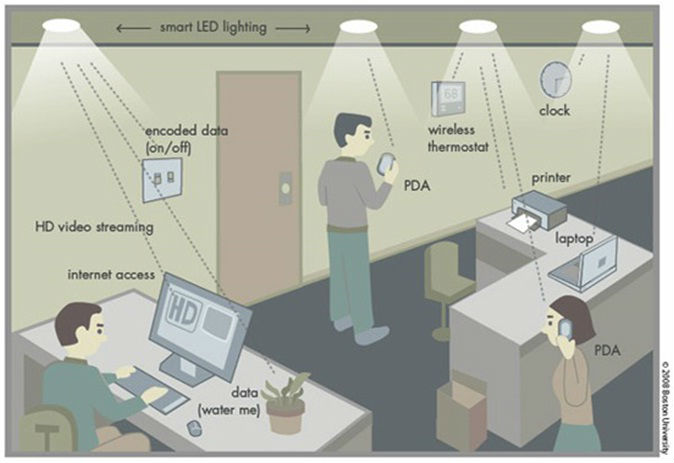 How light-based wireless technology (li-fi) works?
Li-Fi and Wi-Fi are quite similar as both transmit data electromagnetically. However, Wi-Fi uses radio waves while Li-Fi runs on visible light.
As we now know, Li-Fi is a Visible Light Communications (VLC) system. This means that it accommodates a photo-detector to receive light signals and a signal processing element to convert the data into 'stream-able' content.
An LED lightbulb is a semi-conductor light source meaning that the constant current of electricity supplied to an LED lightbulb can be dipped and dimmed, up and down at extremely high speeds, without being visible to the human eye.
Easiest way to create QR Code | what is the need of QR Code | QR code scanner app
For example, data is fed into an LED light bulb (with signal processing technology), it then sends data (embedded in its beam) at rapid speeds to the photo-detector (photodiode).
The tiny changes in the rapid dimming of LED bulbs is then converted by the 'receiver' into electrical signal.
The signal is then converted back into a binary data stream that we would recognise as web, video and audio applications that run on internet enables devices
For an audio visual format of this information Click Here.
Who's who
As you can imagine some pioneer startup companies are vying for future control of this new market. At present the list of companies developing this tech are as follows (in no particular order):-
Pure LiFi, as previously mentioned they are the main company in this field. They are also developing Li-Fi luminaires with the French company Lucibel.
 VLNComm is the main startup company in U.S. These guys are being funded by the US Department of Energy and National Science Foundation.
OLEDComm is a French company working on LiFi. They have some products for indoor positioning.
LightPointe, who are more familiar with point-to-point gigabit Ethernet Free Space Optics and Hybrid Optical-Radio Bridges. Despite this, they are venturing into this potential market.
i2cat, located in Barcelona, Spain, they are also throwing their lot in trying to get this to market.
ByteLight, who were recently bought by the LED manufacturer Acuity Brands
Nakagawa Lab, Japan
Basic6
Velmenni
Zero1
 Axrtek
Qualcomm, GE, Panasonic, Philips, Samsung, OSRAM are but a few of the larger corporations who have also expressed interest in this technology. Which of these companies will stand the test of time? Some interesting times ahead, so
Summary
light-based wireless technology (li-fi)
The potential application of this technology is actually pretty exciting. Wi-Fi bandwidths are becoming saturated, heavily regulated and they interfere with sensitive equipment. These are definite limitations for this great technology, sadly.
Li-Fi certainly has the edge for frequent fliers and we can really see Light Fidelity kicking off in airliners, hospitals etc.
Human kind's ingenious past uses for light to provide means of communication has been taken to the next level with this technology. The inevitable combination of the digital world with the principle of light manipulation to transmit information seems, for all intents and purposes, to be a natural evolution of wireless communications.
The exploitation of existing low energy technology to allow for this technology's implementation is also a massive plus. With LED lighting growing in popularity Li-Fi is an obvious potential addition for future lighting designs in buildings. The impressive data transfer speeds and self-evident security will certainly be of interest to businesses and private citizens alike.
It will be interesting to see future computer and smartphone design changes to take advantage of this technology. Perhaps we'll finally see solar panel charging capabilities with combined Li-Fi connectivity cells? Who knows. Initially, it is possible that connectivity will be provided with external accessory devices.
It is unlikely that Li-Fi will completely replace Wi-Fi given the pervasiveness of existing infrastructure all around us. But Li-Fi will certainly hold exclusive presence for data security demands or in old buildings with very thick walls to interrupt Wi-Fi signals. We can certainly see this becoming very popular in areas with older buildings in Europe and the US.
For more information in video format Click Here.
So guys this is all about the light-based wireless technology (li-fi)

If you have any douts or suggestions in light-based wireless technology (li-fi) comment down below…

Happy vootpooling…