(Last Updated On: February 16, 2019)
The Story Of woodcutter Life Motivation Story
Once upon a time, a very strong woodcutter asked for a job in a timber merchant and he got it. The pay was really good and so was the work condition. For those reasons, the woodcutter was determined to do his best.
His boss gave him an axe and showed him the area where he supposed to work.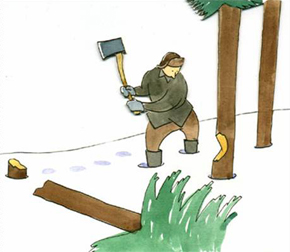 The first day, the woodcutter brought 18 trees.
"Congratulations," the boss said. "Go on that way!"
Very motivated by the boss words, the woodcutter tried harder the next day, but he could only bring 15 trees. The third day he tried even harder, but he could only bring 10 trees. Day after day he was bringing less and fewer trees.
Easiest way to create QR Code | what is the need of QR Code | QR code scanner app
"I must be losing my strength", the cutter thought. He went to the boss and apologized, saying that he could not understand what was going on.
"When was the last time you sharpened your axe?" the boss asked.
"Sharpen? I had no time to sharpen my axe. I have been very busy trying to cut trees…"
For an audio-visual format of this story click here.
So guys this was the The Story Of woodcutter Life Motivation Story

If you have any suggestion in this The Story Of woodcutter Life Motivation Story comment down below

Happy vootpooling…
A Blogger, Author and a speaker! Rahil Nazirhusain Mulla will surely recognized as a future leader in digital marketing.I started vootpool as a passion, and now it's my dream  to spread my knowledge with people all around the globe.
Here at vootpool, I cover all the aspects of Digital Marketing. You will find free content related to Digital Marketing.
DM for free Digital Marketing consultation.
You can read more about Me at the About Page.